PULL BACK YOUR POWER: The ground-breaking code for aspirational women
Women don't yet have a level playing field in life. Something undermines our confidence, creates anxiety, holds us back and blocks our success, despite our abilities and motivation. After 20 years of pioneering research, I've discovered why this happens, and the code to unlocking our confidence and success – my Six Keys to Female Empowerment. Previously only available one-to-one, I'm now sharing this game-changing knowledge, and the techniques to start transforming your life immediately.
I'm a PhD scientist in metallurgy and a former university lecturer in Engineering, turned Female Power Alchemist! I experienced first hand just how much women are still held back, limited and undermined in the world, despite our rights and capabilities. 
Have you ever been in a situation where you felt invisible, or worse were relegated to someone to serve the tea in a room where you are actually "The Expert"?
Did you believe that if you got an education and worked hard, that you could fulfil your potential? But when you get there you find yourself blocked, and undermined by low confidence, stress, exhaustion, imposter syndrome and glass ceilings?
You're not alone!  Many women experience this.  Up until now, there was nothing we could do about it because we didn't understand what was happening.  We thought that was just the way things were. We have been struggling against an unknown beast, without the tools to change things!
This struggle cost me my scientific career, and I've seen the same pattern blocking many other brilliant women from achieving what they want in life.  
It became my life's mission solve this problem for us all, and I applied my scientific approach to the hidden world of the subconscious to analyse the problem.
What I discovered is a game-changer!
It's taken me 20 years to solve the puzzle and find the solution, and I'm now ready to share my ground-breaking discoveries with you.  I believe this is the key women have been waiting for – the key we need to finally get a level playing field.
This is new, it's pioneering and yes it's controversial in places! But if you're a woman who wants to truly embrace her power, and who has felt blocked and undermined, then you need this knowledge.
My vision:  to enable every woman to shine, achieve and create whatever she wants in life free of restraints and sabotage.
How  Big  Is  The  Problem  Women  Face?
Did you realise that women underestimate their abilities 30% with respect to men with the same qualifications?  There are many studies that show women lack confidence in promoting themselves, hold back, and struggle to speak up when they wish they could.
This is only the tip of the iceberg.  Hidden glass ceilings, subconscious limits and ancestral conditioning keep us restrained and prevent us from letting ourselves shine and outshine those around us. This isn't just the case in male-dominated professions, women struggle with these things everywhere.
The hidden beast pulls us back, but consciously we push ourselves to move forward and achieve. The result is enormous internal conflict which in turn creates stress, anxiety, Imposter Syndrome, feelings of not being good enough, burnout, destructive perfectionism and exhaustion.   Eventually something has to break. It stops us from being everything of which we are capable, and prevents the world from getting the benefit of everything we have to offer.
The more we strive to succeed, the bigger the conflict, and the worse it gets. I've lost count of the number of talented women I've helped over the last two decades whose success, happiness and wellbeing have been destroyed by these patterns.
It's time this changed, once and for all.
Foreword  by  Rachel  Elnaugh 
"MAGICAL and UTTERLY COMPELLING.  If you are a woman who has ever felt exhausted or thwarted, despite your best efforts to succeed, finally we have the stunning explanation why.  I recognised myself (as well as many of my professional Sisters) amongst the 5 typical female archetypes us 'power' women are subconsciously drawn into – none of which are truly empowering – and finally understood how & why my life had always felt like such a battle. In this wonderfully liberating book, Anne also offers a series of beautiful and powerfully transformative practical tools to assist us in our collective journey towards the 'Evolved Feminine'.  
I'd like to explain why I have described this book as MAGICAL and UTTERLY COMPELLING.
But first, some context.  
I'd agreed to review the draft and write a testimonial, provided a hard copy was sent to me, and then forgot all about it – coming back from holiday to a card asking me to collect a 'to be signed for' delivery at the sorting office – which I did, en route to the doctor, to be tested for a persistent infection.  
I then headed up to the local Church and sat in stillness for a while, offering up a few silent prayers.  'Why did it feel like my life was in the Doldrums?' 'Where along the way had I so spectacularly lost my Mojo?' 'How come the only tasks I felt able to complete competently and without anxiety these days were housework and cooking?' 
'Please send me some help and guidance'.
The answer was sitting right there – in the unopened envelope, on the pew next to me.
Once I started reading the manuscript later that day I could not stop until I had reached the end.  This book perfectly explained 'The Beast' I had been up against my entire life – without me even having conscious awareness of it!
And I am someone who has truly gone deep with all sorts of transformational processes… exploring every aspect of childhood trauma, delving into the various Shadow aspects of myself, even going on spiritual pilgrimages to Peru to experience plant medicine with the shamans.  
I knew there was SOMETHING I had to be missing, but I didn't know what.
My life as a professional woman has always been in the world of money and business – working my way up in accountancy, and then creating my own company Red Letter Days at the age of 24, building it up into an award winning £multi-million turnover market-leading brand, only to lose it 14 years later to a series of calamities, and thanks to my TV fame as one of the 'Dragons' on the first two series of BBCTV's acclaimed business show 'Dragons' Den', being pretty much annihilated by the media.
Despite many and varied attempts to get my life back on track, everything seemed to turn to dust – especially as I started to unplug from the masculine warrior energy which had been driving me for so many years (I grew up with 4 brothers, so had a training in battle).  
I also trained in trauma healing skills, and it dawned on me just how many years I had been living in full 'predator alert', in a soup of adrenaline.
It seems to me that we are currently at a crucial turning point, where it is vital that women root out every last piece of old patriarchal programming – the deeply ingrained legacy of so many years of male dominance.
Yet we will not achieve that unless we realise just how radically our power has been undermined.
This book explains 'The Beast' we are up against – and how we can transmute and transcend it.
This is precious, essential reading for every woman striving to be successful in a man's world – and I am so grateful for the many hours of meticulous, logical research Anne has put in to create it.
I know that it will inspire you as much as it did me."
Rachel Elnaugh
Award-Winning Entrepreneur
6th August 2019
How  This  Book  Came  About
After a glowing 8 years at Cambridge I started my career as a university lecturer in 1996 with high hopes, but everything began to fall apart almost immediately. I could do my job just fine, but something was undermining me from inside. I tried every conventional technique available to boost my confidence, release stress and help me cope in my work environment. Nothing worked.  I couldn't understand why I felt so vulnerable and inadequate when I was perfectly qualified, capable and the academic equal of all my colleagues.  I ended up with chronic fatigue, anxiety and panic attacks, and I lost the scientific career I'd worked so hard for.  
Basically, it was a spectacular burnout!
After conventional approaches totally failed to help me, I was left with no alternative but to find the  solution myself; the reason why I had been unable to thrive in a career for which I was eminently qualified and the way back to wellbeing.  I trained in many healing modalities specialising in the subconscious mind and dived into the deep hidden operating system that defines our reactions. Over the next few years, I worked on myself, and helped many other women who had all gone through their own version of this story, in many walks of life.  Gradually all the pieces began to come together, and by 2012 I could see exactly why we were all being sabotaged.
Knowing the problem is one thing.  Finding an actual solution is something else entirely!
My existing training could not make the changes I now knew were needed, so I began to experiment, on myself and on a group of willing clients.  I developed an entirely new modality that could change the power dynamic in minds and bodies, transforming how it feels when we interact with the world. 
Our  Missing  Power  Foundation
Here's the truth, there is nothing wrong with us at all!  We simply do not have the power foundation  that a man automatically inherits from history. The subtle messages of the past still prevail on many levels and these undermine every women who strives to achieve her full potential in life.  This triggers us to lose our power – not beliefs in power, but an actual energetic effect. This all creates a cascade reaction which locks us in a perpetual fight or flight response.
We fight it, we push forwards, we compensate and we do achieve, but the rug is still pulled out from under us; there is a heavy cost and we are paying it every day.
"Pull Back Your Power" brings you the results of my discoveries, in a way you can use by yourself, immediately.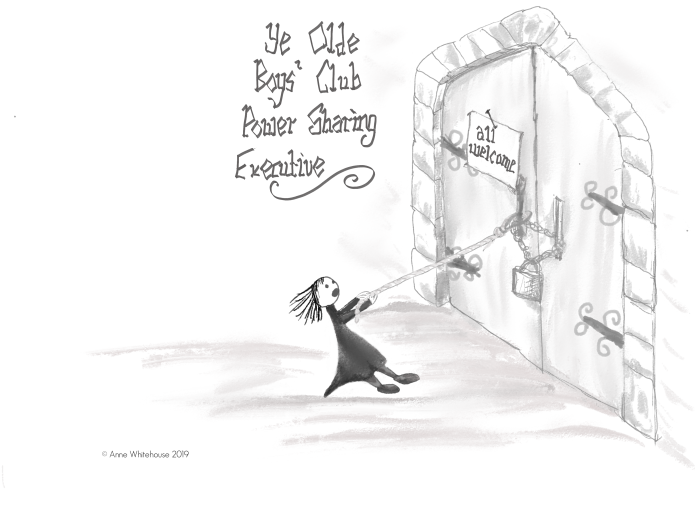 The book is designed in two sections. If you follow it through, and do the exercises, you will begin to feel different.  This isn't just a theory book, you will be healing and empowering yourself.
Part 1 – The Real Beast You're Up Against
The first part is a deep dive in to the hidden energies of our world.  You will finally understand the hidden beast that undermines women every day. You can never fully embrace your power until you understand just how much women have been sabotaged by the legacy of male power, and how this has manifested in your own life.  
You'll be appalled at how disempowered we still are, despite our 'equality'.
You'll also discover your Female Power Archetype which will explain to you exactly how your life experiences have disempowered you up until now, and how you can use this to activate your unique gifts.
Part 2 – The Solution
The second part is your process to free yourself from that straitjacket. I take you through each of the six keys of feminine empowerment, each carefully designed to undo the restrictions of the past, and bring in the power foundation we need to activate our true female power (not the suppressed version the patriarchal world has forced on us) and change the balance of power in our lives.
Audio  Bonuses  For  Readers
I've created a series of powerful audio guided meditations and clearings, available for readers to access online.  This is something I have been doing for many years, and am highly experienced with. Each recording is carefully crafted to support and enhance each step of my empowerment system.
This section guides readers through each of the processes carefully, enabling them to learn the techniques as if I were there with them, but the effects will also be magnified with my unique energetic techniques.
How  Is  This  Different?
Most empowerment techniques focus on conscious understanding, releasing emotions and changing limiting beliefs.  All these things are of benefit, and I used them for years.  However, if we want to stop the struggle, and be truly free, the only way is to change the power foundation; the underlying hidden dynamic which undermines us and keeps our minds and bodies locked into a disempowering fear state.  Before now, we did not have the tools to change this, but I have developed the understanding and techniques needed to do this.  I believe this is new and unique.
As we go through the book, you'll come to know Grace, my fairytale character, as she struggles to reach the Palace of Success.  (It's Grace you see in my illustrations.)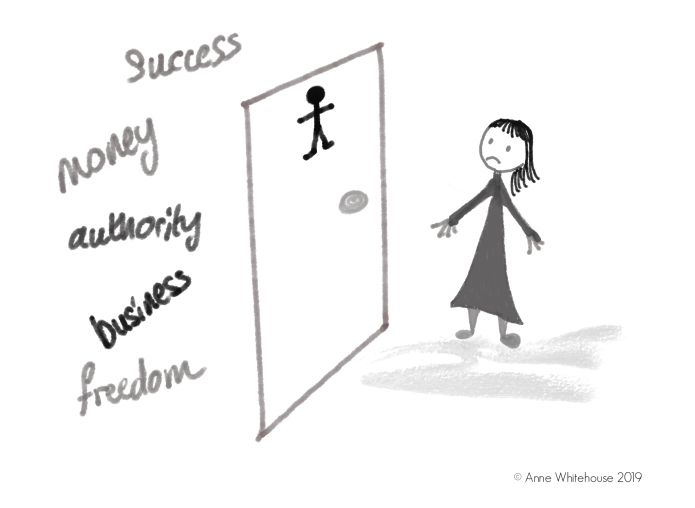 Why is she there in a 'serious' book you may ask?  Well, she represents our journey from the patriarchal past full of limitations and unfairness, to the point where we activate our true female power.  
She starts off obeying all the rules, but then finally she says 'enough is enough' and breaks free from the laws of the Status Quo.  She doesn't need rescuing, and she's not going to conform any longer and she's going to do things her way. 
I have enjoyed creating Grace's story enormously and I hope you will like her as much as I do!